Sunflame Crystal nova XL 3BR SS comes with an auto ignition ( optional ) feature which requires minimum or no assistance from the user to light up the burner.It ignites the burner automatically. You do not have to worry about exhausting the matchsticks or the lighter not working.Once the burner ignites, the flame can be then adjusted to the desired intensity.
Sunflame High efficiency brass gas burners are more suitable as they are more durable and resistant to corrosion and high heat With these High efficiency brass burners even small utensils can be used and it helps in cooking faster and uniform heat distribution.Overall , these brass burners are more corrosion resistant and have a higher life span.
Double SS Drip tray are designed for hassle-free and spill proof cooking which also enhances effective functioning and maintaining hygiene around the gas stoves.
Premium Finish Glass Top offers a sophisticated design that is easy to clean. The glass top is scratch resistance, temperature resistance, and corrosion resistance thus ensures enduring performance.
High quality knobs for additional safety & beauty..The conveniently placed knobs grants easy and quick access. The smooth and sturdy grip goes easy on the fingers.The 360 degree rotating knobs comes with a fine smooth finish with added comfort & ease.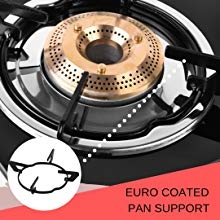 Euro coated sturdy Pan Supports – This special feature prevents the pan of the gas stove from chipping off and provides splendid care.
Sunflame Sunflame Crystal nova XL 3BR SS comes with 1 Super big , 1 big and 1 Medium Burner for better control over your cooking, such as being able to cater from higher to lower settings while cooking.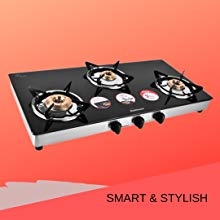 Sunflame Crystal Nova XL 3BR SS is an incredible premium Galss cooktop comes in an ultra stylish and smart design that looks very attractive makes it look very elegant and stylish for every premium kitchen.The Crystal Nova XL 3BR SS gas cooktop is designed to combine maximum convenience with great looks.